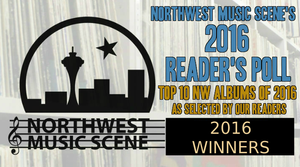 "Ladies and gentlemen, welcome, welcome, to the annual NorthWest Music Scene Reader's Poll, where we asked you, the loyal readers, to vote on what you considered to be the best albums released in the Pacific Northwest in 2016. 14 intense days and thousands of votes later, we're here to show you the results of all your hard work and congratulate the bands on a job well done both in the studio, on stage and of course in this contest. This year's contest was extremely competitive and we hope you all had fun with it, we sure did."

So here are the final results of the top 10 bands representing Oregon, Washington, and Idaho.  Thanks to fans and friends of Fluffer Nation we landed 2nd Place beating out such distinguished performers as Ann Wilson of Heart, Candlebox, Seven Year Bitch, the Posies, the Godfathers of Grunge The Melvins, and over 290 other talented nominated artists!!  

It's fantastic to represent people who still LOVE punked out Hard Rockin' music.  This has been an exceptional year because proceeds from this Santa Apocalypse album helped provide Christmas for 67 families through Toys for Tots program, and the proceeds from our debut Fluffer CD provided over 2000 meals through local food banks. So Merry Christmas and here's to an electrifying 2017.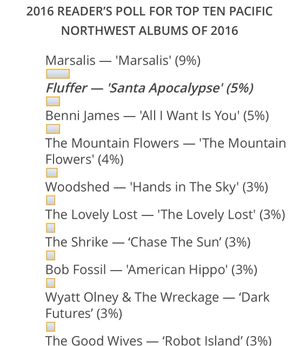 Thank You to all you fans who requested us everyday since May!!! Very proud to be the second most requested song of the year